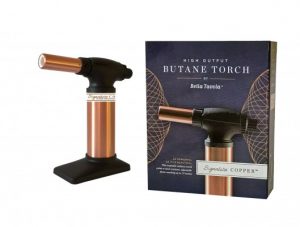 If you are serious about cooking, whether in a professional environment or at home, a kitchen torch is a perfect addition to your kitchen arsenal. Used anywhere a quick roast, toast or melt is needed, the Bella Tavola Signature Copper Torch is a must have tool to add depth and smoky flavor to your dishes.
What is a culinary torch?
A culinary torch is a handheld butane torch used to create quick, intense heat for cooking. Lightweight, small and powerful, it is a relatively simple tool to use, allowing you to up your game in the kitchen.
Although a pretty common tool in professional kitchens, accessing this type of intense heat source at home can be difficult. Fortunately, our high output Bella Tavola Signature Copper Torch is available at a great price, enabling you to add this specialty kitchen tool to your repertoire.
Culinary torches – Not just for Creme brulee
Our Bella Tavola Signature Copper Torch is delivered to you with a free creme brulee recipe, but did you know there are so many more uses for a culinary torch? While creme brulee is probably the most commonly made food with a culinary torch, other uses include:
Charring peppers and tomatoes
Creating a crunchy cheese topping for french onion soup
Browning meringue
Melting cheese
Glazing a baked ham
Browning sous vide prepared dishes
Caramelizing sugar
Making s'mores
The possibilities are endless!
Why Bella Tavola?
There are many brands of culinary torches available on the market. What sets our Bella Tavola Signature Copper Torch apart from others is that our torch is designer inspired and engineered with the highest quality materials available. Made from truly sustainable copper, the Signature Copper Torch provides premium performance functions and features. Features include:
True Sustainable Copper
High Output 2400 F Wind-Resistant Flame
Piezo Electronic Ignition System
Child Resistant Safety Mechanism
Adjustable Flame Control Lever
Continuous Locking Mechanism
Ergonomic Grip
Removable Non-Tip Wide Base
Refillable
At Wall Lenk, we have been leaders in the heating tools market for over 150 years.and our products are proudly made or designed in the USA. Click here to visit or learn more.